From the moment we're born and form our thoughts, we get asked 'what we want to be when we grow up?' Many of us may choose traditional professions or whatever profession piqued our interest. As we get older and learn different things, we begin to discover a passion to inspire and motivate others, and being an Inspiration to young female athletes is what Corbin has become.
Corbin first made her debut in 2007 for England's national team and is currently playing for the Saracens Mavericks where she is the captain of the netball team. She comes from a family of athletes whose dad is a former professional cricketer and her mum used to compete in netball also.
Many would agree that sports would be her long-term love and passion. However, many individuals have a period in their lives, usually during the childhood to teenage years, where the spirit of adventure and exploration is in full gear. At this point, it is entirely natural that young people may want to explore different things, and the same can be said for Corbin.
"I really loved anything that gave me a stage. I loved dancing, I wanted to do anything where I could express myself and show lots of people. Acting was also something I enjoyed growing up," Corbin said as she reflected on her younger years.
At the age of seven, Corbin got involved in gymnastics, however, this was short lived as she decided to retire her singlet during the time of attending secondary school. "My body started to change," she said as she spoke on the transition from gymnastics to other athletic sports.
"I was getting older, and I was getting more self-conscious, it was around when I was attending secondary school and I was being introduced to other sports that gymnastics was not even a key focus anymore," she further stated.
During this period, she found that she had a talent for throwing the javelin while she competed in the heptathlon at various events. Her love for sports would soon lead her to Netball, in which she would have a long and illustrious career. Of course, the success of an athlete mainly depends on their discipline. Athletes have to stay committed to following the diet plans and training schedules. The strict regimen can be very challenging, and many athletes have moments where they feel like they cannot stay dedicated and focused.
After considering the challenges she may have experienced as a netballer, Corbin said, "I have always loved that I could do sports. Sports and training and playing have always been a passion of mine so when you're doing what you love it doesn't always feel like work. Netball has taken me all across the world to places I have never seen and places that I would have never seen like South Africa and Malawi…."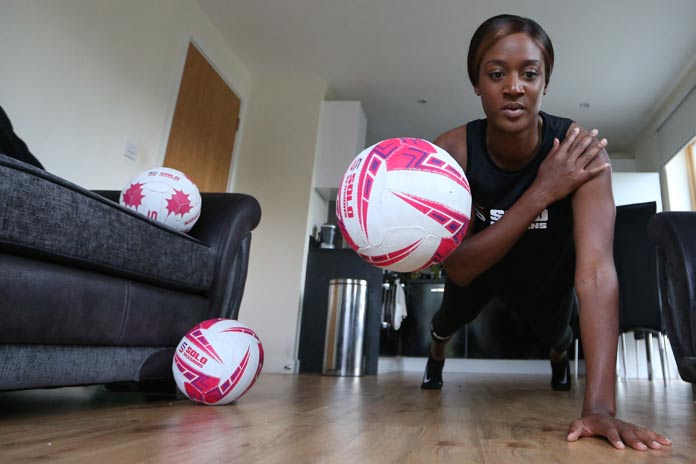 She further went on to say, "However there have been some tough times and that would probably just more so be through injury or any set back which is really tough as an athlete, but the people that are surrounding me such like family, friends, and having set goals and having a support network has really helped me stay on the straight and narrow when I think things has been really tough."
Like other individuals, the pandemic impacted Corbin, and she was able to speak on how she was able to cope during this period and how it affected her career. "It was quite tough at first because you just did not know what was going to happen next with this pandemic. With athletes, specifically netball players we try to get fit for a specific time so that we're peaking by a final if we are in season. And not knowing whether the season was going to come was just about keeping a base fitness and that became a bit boring at times by just trying to go with the flow".
In her effort to stay fit while encouraging others to do the same, Corbin began getting involved in other types of physical activity, specifically, 5k and 10k run despite being the type of person who did not usually go for runs. In addition to participating in activities that were not Netball specific, Sasha also emphasized self-love during this time.
"I gave myself a lot of self-love and ate all the good foods and drank a lot of water. I was stretching and taking care of my body. I was going for baths and placing bath salts in there, I was listening to music and really taking care of myself," she expressed.
Due to the pandemic, the decision was made to cancel the remainder of last year's season. At the same time, Corbin and her teammates were disappointed; they believed that the right decision was made for safety purposes. However, Sasha and her team managed to turn a negative situation into a positive one by making the best out of it and taking the time they had to have some time to relax and rest.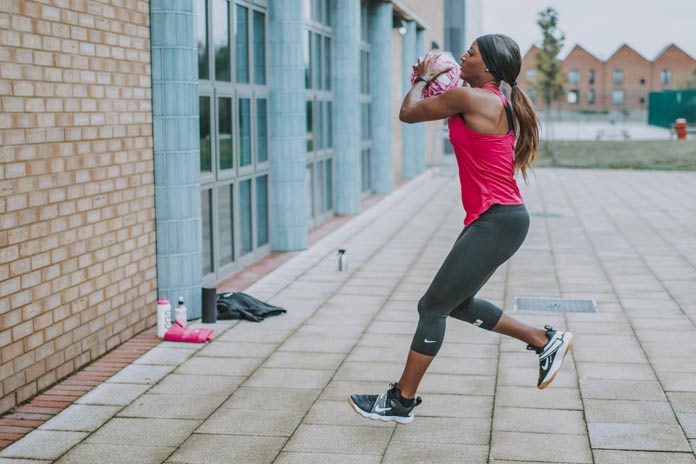 While communicating via online, the team also focused on the necessary steps to reunite as a team and get back to training. The team also made use of the downtime to plan a long-awaited outing.
"There was one time around summer when things began opening up and a few of us from the team went to a theme park together, we all had our masks and sanitisers, we socially distanced it was a lot of precautions but we really enjoyed being together in the summer for just that one day, but now we're back in training so this is much better," the netball star shared.
Through funding from the Furlough scheme and other sponsors, netballers, and sporting officials have received some relief amid the pandemic. However, to create additional income, she made use of her entrepreneurial spirit and finally decided to develop and launch her online digital membership platform Solo Sessions UK.
The professional netballer responded by saying that her digital platform started with her just wanting to give back to the netball community. "I wanted to give people the idea to train by themselves. Because Netball is a team sport and I named it solo sessions so that you could know that you could still train for Netball by yourself," she further explained.
Five years ago, what started as a YouTube channel naturally developed and blossomed into Corbin's primary goal of Solo Sessions becoming a brand that made high-quality netball training available to various people. As Solo Sessions began to gain popularity, people began requesting coaching sessions and masterclasses.
Because of her passion for Netball and her confidence in delivering this innovative service, Corbin did not doubt that her business venture would be a success. Corbin has a deep love and passion for providing this opportunity to the netball community, and she also enjoys participating in the coaching sessions and masterclasses.
One of the best and most rewarding parts of Solo Sessions that Corbin has experienced is the Solo Sessions hubs that have been set up in various areas. These hubs cater to young girls between the ages of 11-14 years, where they can receive professional coaching and meet various sports elites. From these sessions and interacting with sporting professionals, and hearing their stories, Corbin received terrific feedback from the girls.
Get updates/alerts on fitness tips
"Those girls were so engaging, they were so inspired by Christine Ohuruogu who is an Olympic gold medallist for the 400 meters and she shared her story with them, we just wanted to keep motivating them, those that don't always get the opportunity to play netball or get the quality coaching that a lot of affluent or private schools can get", Corbin relayed.
"They loved netball, they were engaged with the videos and they were asking questions every week, it's been so good to see them smile and love the game and that's what we want, for them to participate and enjoy themselves while learning about themselves and that they can achieve anything" Corbin further stated.
Like most young people today, these girls love music, dancing and of Course TikTok. Corbin has also developed a love for TikTok as well after seeing her young participants have fun with the app. "They were the ones that taught me how to do the Renegade," Corbin excitedly revealed.
With all the fun and inspiration that Corbin, her peers, and these young aspiring netballers have had, they have naturally been a bit disappointed that the Solo Sessions hubs are on a temporary hold. In the meantime Corbin is currently running an online fitness program called Boot Camp 1.0, where people can do workouts from the comfort of their own home with a Netball inspired theme. This has been running during the pandemic and has challenges, fitness drills and a VIP club which offers people a chance to engage and chat with Sasha.
Sasha has become a great inspiration to her community and all races of teenagers and other individuals; she shares her formula for success, happiness, and peace. "Always be yourself, chase your dreams, and don't stop until you get it."
With the official netball season soon to begin, Corbin, remains focused as the team set their sights on getting to the Netball's finals Super League but also taking home the title.
She is also focused on having successes for her team in other netball events as they look forward to the hopefully near start of the netball season. As she looks ahead, she encourages others to do the same and finally passionately states, "tell everybody to never give up!"